Honoring NBA teams unsung heroes, the NBA Sixth Man Of The Year award is the highest honor a role player can achieve. We have even seen a sixth man go on to become NBA Hall Of Famer in the great Kevin Mchale. Mchale who is a 2x winner of this award also won three NBA championships and was selected to seven different all star games throughout his career.
However, in today's NBA, the poster boy for NBA sixth men is Jamal Crawford. A pure scorer off the bench who adds a unique flair and style to your team. Let's take a look at who has a chance at coming away with this award in the 2017-18 NBA season.
Eric Gordon
The defending champion of this award, Eric Gordon is one of this leagues premier three point shooters. This was especially showcased in last years NBA All Star three point shootout where he beat out superstars such as Kyrie Irving and Klay Thompson to bring the trophy back to Houston.
Last season alone, Gordon averaged 16.2 points per game on 37.2% from behind the arc. Eric was also an instrumental part in Houston's playoff run and should be twice as productive this year with Chris Paul passing him the ball.
Granted, last season James Harden, who led the league in assists, was passing him the ball, but Paul has a court vision that is unmatched in today's NBA and is possibly the best facilitator of this generation. Over the course of his career, Paul has averaged 10 assists a game and was at one point in his career, an MVP candidate.
Although, when Houston traded for fellow sixth man Lou Williams, Gordon became a bit less productive. However, this offseason the Rockets traded away Williams for Paul making Gordon the focal point of their bench unit once again.
Gordon also plays starter minutes which will tremendously help him in his case because he will get the chance to receive passes from Harden and Paul for his trademark deep three pointers. With that being said, let's take a look at Eric Gordons predicted 2017-18 NBA stats.
Predicted Stats: 16.5 Points Per Game, 3.0 Rebounds Per Game, 2.8 Assists Per Game, 45% Field Goal Percentage, 43% Three Point Field Goal Percentage
Lou Williams
A former sixth man of the year recipient, Lou Williams is possibly the leagues best scorer coming off the bench.
It has been a crazy year for Williams as he has bounced around from the Lakers to the Rockets, and then back to Los Angeles but this time as a Clipper.
Last season, Lou led the league in scoring off the bench averaging 17.5 points per game. Williams also dished out 3.0 assists per game and shot 36.5% from downtown.
Williams was also second in Sixth Man of The Year voting behind former teammate, Eric Gordon. However, many believe that Williams should have won the award due to his scoring and impact off of the bench.
As a Clipper, Lou will lead a bench unit that includes Montrezl Harrell and Patrick Beverly. Williams is also almost an exact recreation of former Clippers sixth man, Jamal Crawford. Both are prominent scorers who are always in the race for the Sixth Man award.
Although, I did believe that Lou was a perfect fit for the Rockets due to his slinger mentality and fast paced play style. However, we saw how great Crawford performed in the system which only bodes well for Williams. Now although I don't believe that Williams is the frontrunner for this award, he is no doubt in the top three.
So let's take a look at Lou Williams predicted stats for the 2017-18 NBA season.
Predicted Stats: 17.8 Points Per Game, 2.2 Rebounds Per Game, 3.4 Assists Per Game, 43.2% Field Goal Percentage, 39.8% Three Point Field Goal Percentage
Jamal Crawford
You always have to assume Jamal Crawford will be in the running for this award. After deciding to part ways with the Los Angeles Clippers and choosing to join the growing Minnesota Timberwolves team, Crawford put himself in perfect position to reinvigorate his career and be the mentor of some young Timberwolves guard.
Crawford would also be coming in behind star guard, Jimmy Butler which has helped sixth men in the past. If a player can come in off the bench behind an NBA superstar and thrive, it pleads to voters and shows them that despite the lack of minutes, they are efficient on the court and know how to utilize their talents when given the chance.
Crawford has also already won 3 Sixth Man awards and has turned into the ultimate "just give the award to him" guy. If in any particular year there is no clear cut winner, Crawford will quickly turn into the favorite barring any major injuries.
However, last season Crawford averaged 12.3 points per game on 36.0% shooting from three. These numbers are obviously not award winning worthy, and one can only hope that they weren't a sign of his age starting to show off the court.
If you ask me though, we will see a completely different Jamal next season. It was clear to everyone that the Clippers just were not having fun and enjoying the game last season.
J.J. Redick even admitted that there was a feeling of sadness and tension between the team. That kind of feedback from a former player shows how hard it is to find a rhythm on a team with that low of chemistry on the court.
With all of this said, let's take a look at Jamal Crawfords predicted stats for the upcoming season.
Predicted Stats: 14.7 Points Per Game, 1.8 Rebounds Per Game, 3.1 Assists Per Game, 42.1% Field Goal Percentage, 37.7% Three Point Field Goal Percentage
Andre Iguodala
In my opinion, Andre Iguodala should have already been a recipient of this award.
Iguodala is possibly the leagues most underrated player as he is the fifth best player on the defending NBA champions. Iguodala showcased these skills in the 2015 NBA Finals taking home the MVP and again in the 2017 Finals stripping LeBron late in game 3 and scoring 24 points in the series closer back at Oracle.
Andre is a perfect example of what is wrong with this award. Rather than going to truly the most valuable sixth man on a team, it ends up in the hands of a bench player who simply scored a ton of points.
Last season, Andre Iguodala averaged 7.6 points per game, 1.0 steals, and 4.0 rebounds on 52.8% from the field and 36.2% from behind the arc. Now although these may not be the flashiest numbers, Andre has proved his worth when it counts time and time again.
When will the voters finally realize that Iguodala is one of the best players on a team stock piled with superstars? However, I'm afraid that we will have to rely on the voter's mindsets to change as Iguodala will never put up great regular season numbers on this team but will continue to show his impact on and off the court.
I get that this award is made for who performs best in the regular season, but at some point, you have to take past play into account and start appreciating these difference makers.
Predicted Stats: 7.4 Points Per Game, 3.7 Rebounds Per Game, 3.6 Assists Per Game, 54.2% Field Goal Percentage, 38.2% Three Point Field Goal Percentage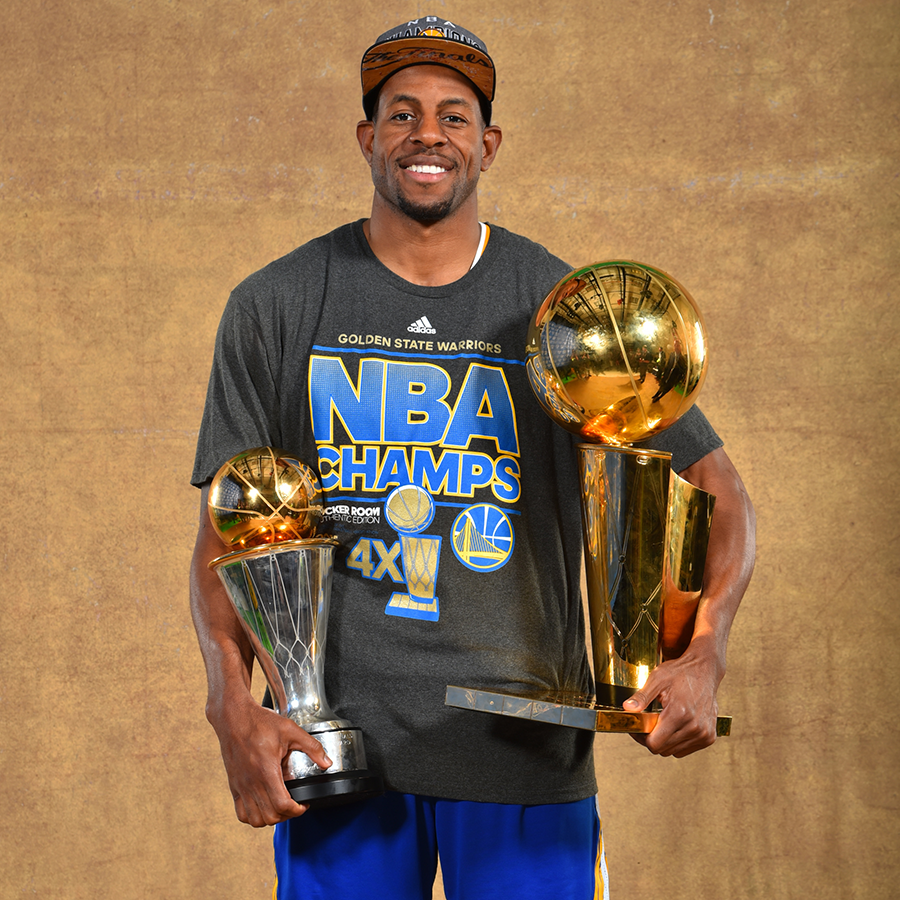 Best Predicted Stats By Category:
Points Per Game: Lou Williams- 17.8
Assists Per Game: Andre Iguodala- 3.6
Rebounds Per Game: Andre Iguodala- 3.7
Field Goal Percentage: Andre Iguodala- 54.2%
Three Point Field Goal Percentage: Eric Gordon- 43.0%